46 Repair Tool Kit
SALE & FREE Shipping Promo Ends in:
Easy complete access for all of your tool repair!
46 pcs screwdriver drive socket wrench all comes with a durable storage case for easy transportation, safe storage, and quick organization.
Main Functions:
•The screwdriver handle can meet batch head (a word cross T word plum blossom socket head hex extension rod universal joint can receive bending bar)
•The socket wrench set using high-quality chrome vanadium steel 50 bv30 cold-press forming, torque 50% higher than that of carbon steel, use inferior smooth surface processing, good rust prevention effect. Batch head adopts cr-v materials, stronger hardness, toughness is higher.
•Rapid fall off ratchet wrench (positive and negative adjustable), The push button quick release feature ensures that the socket is locked securely while in use, but also allows for easy removal or quick change of socket evev with greasy or oily finger. and our high quality 45 teeth ratchet can improve the operation speed. Is open throttle, in air conditioning, seat nut, tire fenders, car door locks, home (basic contains) usually used in the suit small screw nut the ideal of a set of tools.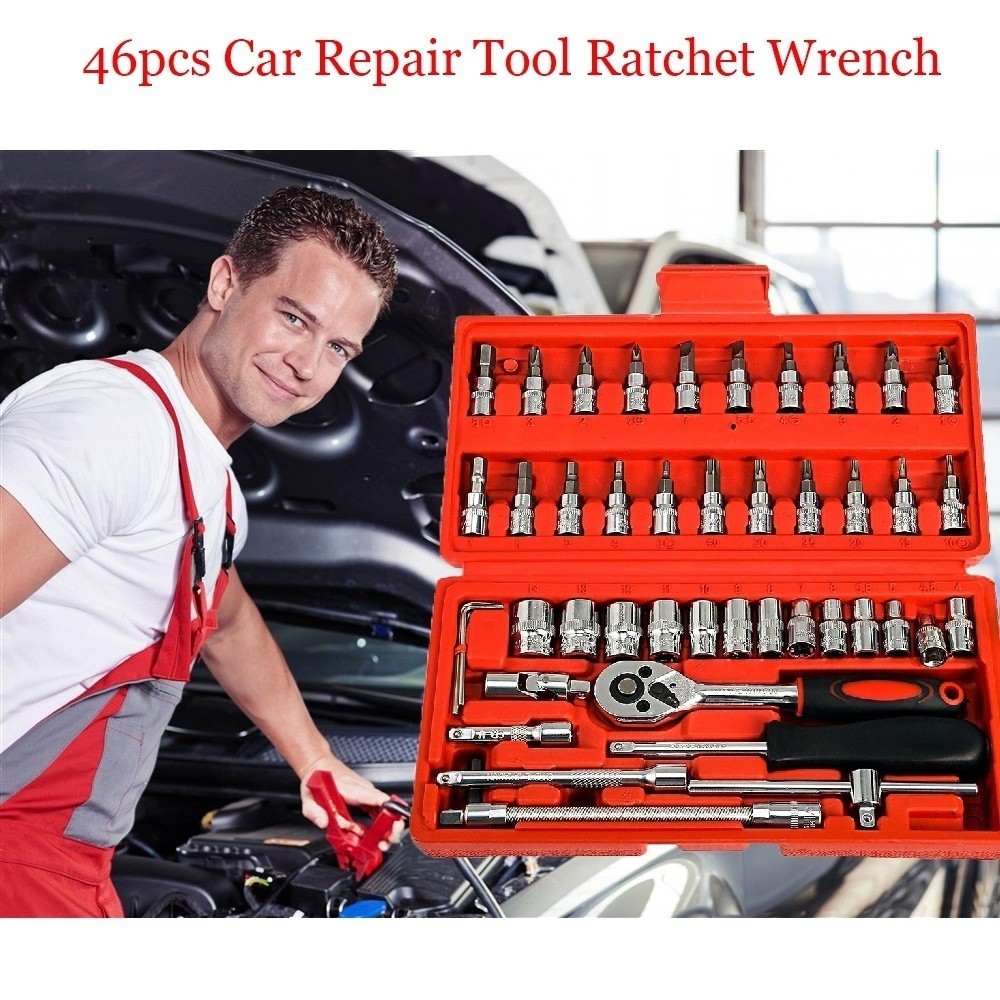 Necessaries
46 pcs screwdriver
metric socket set
can be used for tightening or loosening most bolts, nuts, screws for maintaining automotive, mechanical, motorcycle, etc. Get it in case of the necessary need
Durable
With a mirror chrome finish surface, 1/4-inch drive master socket set corrosion-Resistant as all tools are made from premium quality chrome vanadium steel. Pretty good for daily use, repair anything you need
Widely Usage
This 1/4-inches ratchet
impact sockets 
wrench repair tool kit perfect for handyman, repairman, construction workers, mechanics. And also a great ratchet wrench repair tool set to have at home, garage and the workshop.
Easy to Use
Sockets and extensions remain locked onto the drive is designed with easy-to-reach, quick-release steel ball. High-torque, 6-point sockets grip flat sides of fasteners, not corners, preventing round off.
SPECIFICATIONS :
Durability: Made from Hardened treated Chrome Vanadium steel alloy.
Corrosion-Resistant: Full Chrome Plated; Mirror Polished.
Easy to use:Quick release switch and reversible mechanism for easy operation.
Easy Storage: A sturdy plastic organizing case is included. Humanization-design: Bi-material rubber handle for better and more comfortable grip.
PRODUCT INCLUSION :
21*DR bit sockets: PH1,2,3,PZ1,2,3; FD4,5.5,7; HW3,4,5,6,7,8; T10,15,20,25,30,40
13*1/4 inches DR sockets: 4,4.5,5,5.5,6,7,8,9,10,11,12,13,14mm
3*hex key wrenches: 1.5,2,2.5mm
2*1/4 inches DR extension bars
1*1/4 inches DR quick ratchet
1*1/4 inches DR universal joint
1*1/4 inches DR spinner handle
1*1/4 inches DR flexible extension
1*1/4 inches DR sliding bar
1* bit adaptor
1* blow case
Important Notes:
We don't want you to miss out our Sale!!
Get Yours Now Thru Cash on Delivery! 
Take Advantage of this Special Offer Now Before the Price Increases!