Baby Water Mat
SALE & FREE Shipping Promo Ends in:
The Best Fun & Entertaining tummy time mat for baby!
Let your Baby Swim in a colorful sea world right in the middle of your living room with our Baby Water Mat ! If you are looking for a fun, stimulating and entertaining baby play mat that will help strengthen your baby's legs and arms while promoting the development of essential skills, you should look no further than our Tummy Time Mat !
Why Choose Our Water Tummy Mat? Help your newborn have fun squeezing, squishing and pressing the water mat and trying to move the fish around! And You don't have the time or energy to clean up after leaky mats and we know it. That's why our mom-approved tummy time water mat is 100% leak proof!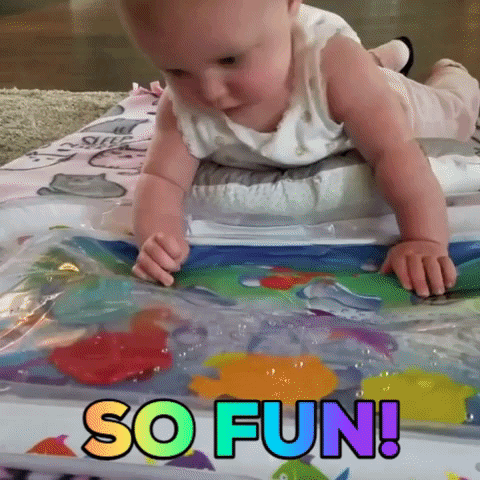 The most adorable Baby Water Mat is finally here! Now you can offer your infant endless hours of splish splashing fun thanks to our premium-quality baby water mat! Help your baby develop essential skills and discover the magical world of colors and movements while having fun!
Unlike all those cheaply-made water baby mats that are leaky, smell horribly and cannot endure the abuse of a toddler, our heavy-duty PVC mat for tummy time is 100% leak-proof, so you don't have to worry about messy accidents. Plus, it's sturdy enough to pass the test of time!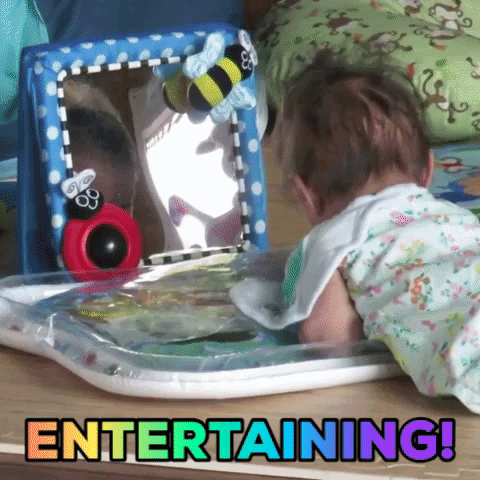 Super-easy to set up - Mom-Approved Design! You don't need an MIT degree in order to set up our baby inflatable mat. Just inflate the outer ring and fill the interior part with water! That's it! Now all you have to do is place your baby on the splash mat and watch his/her eyes spark up with excitement!
 • SUPREME QUALITY & 100% LEAK PROOF: Our baby water mat are made of durable 100% BPA-free & non-toxic HEAVY DUTY PVC materials. Each of our play mat has been strictly tested for NO LEAK and durability. No need to worry about messy accident
 • BEST TUMMY TIME TOY: Enjoy the water time without getting wet! Your infant baby would be fascinated by the bright sea world graph and cute floating toys in the water. Parents can also have a fun time for watching the baby laugh and play
 • PROMOTE BABY DEVELOPMENT: Tummy time play mat helps strengthen baby's leg and arm muscles to prepare to crawl. Aside from preventing a flat head, this sensory baby mat can also delight brain development and enhancing hand-eye coordination
 • EASY TO USE & PACK: Set the baby water mat by simply inflate the outer ring and fill the interior part with water! After use it, you can just empty the mat, fold it or roll it up, and pack it into your purse or suitcase! It would also be a great gift for baby shower
•This mat improves baby's hand-eye coordination!
•Helps strengthen your little one's neck, back, arms, and legs!
•Encourages sensory stimulation and cognitive learning.
•Develops social and motor skills, too.
•Allows cause and effect learning. See the fish move around from place to place as little tyke squeezes the water mat to try and catch the floating objects inside.
•A perfect activity for "tummy time", which helps build baby's muscles and joints to prepare him/her for exploring the world further on his/her own. It also prevents the back of baby's head from developing flat spots.


•Designed with adorably eye-catching graphics. The vibrant colors, sharp contrasts, and cute floating toys will make any little tyke wide-eyed and fascinated. It's a fun water mat specially designed for babies!
•Fully Inflatable and Easy to Setup — Simply fill the outer ring with air and then the inner mat with enough water from the tap. Afterwards, make sure that you tightly lock the opening valves. Set it on the floor and let the fun begin!
•Easy to store when not in use. Just deflate it, fold, and keep in a cool dry place away from direct heat or sunlight.
•Lightweight and Portable — When deflated, it folds easily into your purse or toy bag. You can then bring it along with you everywhere you and your baby goes.
•Guaranteed safe, leak-proof, smooth, and very comfy to use.
Product Specs:
 •Size: 66 x 50cm

Product Includes:
 •1 x Baby Water Mat
Important Notes:

We don't want you to miss out our Sale!!
Get Yours Now Thru Cash on Delivery! 
Take Advantage of this Special Offer Now Before the Price Increases!