Buy 1 Get 1 Promo - Dishwasher Soap Dispenser + Pump Soap Dispenser
Dishwasher Soap Dispenser
More leverage for scrubbing, with soap conveniently on board!

This round brush is designed to fit in the palm of your hand for cushioned comfort as you scrub pots and pans sparkling-clean. Dish soap is right at your fingertips-- simply press the soft top to release soap whenever you need it.
Dispense soap on demand with our Dishwasher Soap Dispenser. With a light push of the button, soap shoots out and onto the item being scrubbed. Contoured shape for optimal comfort and scrubbing power. Durable nylon bristles are safe for non-stick cookware and bakeware.


Dispenses soap on demand with the light push of a butto

Durable nylon bristles easily clean baked-on food and are safe for non-stick cookware

Contoured shape provides optimal comfort and scrubbing power

Simply unscrew top to fill with soap

Twist brush base to easily replace bristles

Handle features soft, comfortable, non-slip grip
An easy-fill washing-up liquid reservoir that dispenses the required amount of soap with a simple push of the top button. Its compact size makes it easy to control and ideal for cleaning pots, pans and dishes. 
Scrubbing Brush With Non-Scratch Bristles Idea For Pots, Pans And Dishes Simply Push Button To Release Washing Up Liqiud Sturdy Storage Stand Allows Brush To Drip Dry Naturally Soap dispensing palm brush with storage stand. CARE & USE : By Hand.
Specification:
    • Type: Washing-up brush
    • Material: Polypropylene, SAN, nylon, TPR & steel
    • Box contents: Storage stand
    • Dimensions: 135 x 95 x 88 mm (L x W x D)
    • Weight: 220 g
FREE!!! 

Pump Soap Dispenser
DISHWASHING HAS NEVER BEEN THIS EASY!
Introducing our Pump Soap Dispenser your cleaning dishes are about to get a whole lot faster. No more stopping to grab the soap bottle. Any other sponge or scrubber will work on this tool.
Sink dispenser with attached caddy holds sponges, scrubbers, rags, scouring pads in one convenient place while keeping water off of kitchen counters. No more stopping to grab the soap bottle. Any other sponge or scrubber will work with it too!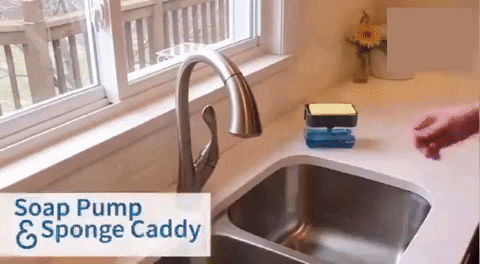 This soap dispenser will help simplify your counter space and it holds the perfect amount of soap for your kitchen sink and eliminate the need for frequent refills.
 EASY TO USE & CLEAN: The push pump design dispenses soap effortlessly. Ir allows to fill the dispenser comfortably, convenience and mess-free structure are what makes it impeccable.
Package Includes:
1 x Dishwasher Soap Dispenser

 FREE!!! 1x Pump Soap Dispenser
Important Notes:
We don't want you to miss out our Sale!!
Get Yours Now Thru Cash on Delivery! 
Take Advantage of this Special Offer Now Before the Price Increases!