Buy 1 Get 1 Promo - Salad Cutter Bowl + Strainer Chef Basket
SALE & FREE Shipping Promo Ends in:
Salad Cutter Bowl
Make healthy fresh salad in just 60 seconds!
Finally a fast, easy, virtually mess-free way to enjoy a healthy meal everyday!
Fast, Easy, Safe. Making fresh & healthy salad is no longer a chore. Rinse, chop and serve any salad in a short time with Upgraded Salad Maker. Less tools and never cut fingers. Great Choice for salad lovers.
FEATURES :

✅ Upgraded Design: It can be hang to dry, juice can be stored in the sink, easily rotate the bowl by holding the wings on both sides.
✅ Item Size: 10.5*8.7*4.8 inch, enough for 4-5 people serving.
✅ Please rotate the bowl only, do not rotate together with the food.
✅ Hard ingredients are not recommended. Make sure the ingredients fit 3/4 of the bowl.

60 Seconds Salad Cutter Bowl easily Rinse ,Chop and Serve almost any salad in Seconds! The unique slits take all 
the hassle out of rinsing and straining and allow you to chop the ingredients all at once!It's the easy way to healthy,
fresh salad 
everyday.

Just give your Salad Cutter Bowl a quick rinse or pop it in the dishwasher. No more mess, no more stress. Now you can enjoy a healthy, delicious salad in seconds.

QUICK AND EASY SALAD PREP

 

- Our all-in-one salad cutter bowl allows you to wash and chop your salad ingredients in seconds, taking all the time and hassle out of making the perfect salad.
CHOOSE YOUR SALAD TYPE

 

- Multiple knife slots and a clever rotating design make it equally easy to prepare finely sliced, chunky or diced salad. It can also be used to slice fruit!
EASY TO CLEAN

 

- The salad cutter bowl is dishwasher safe or can be given a quick clean with warm, soapy water.
Help maintain a healthy lifestyle with fresh salads that you can prepare in a matter of seconds! The 
Salad Cutter Bowl
 can be used as a bowl to wash your ingredients in and a quick, easy way and to slice and dice your salad how you like it.
How To Use:

      Prepare the perfect salad in just four simple steps!

1. Put your ingredients into the bowl and wash to clean. Ingredients should not be more than 3/4 of the bowl.
2. Close and connect the bowl to the base.
3. Chop ingredients through the slits of the bowl
4. Rotate the bowl 90 degrees, chop it again!
5. Done! Enjoy your healthy fresh salad!
.
GREAT HELPER FOR HEALTHY LIFE
The salad container matches with a variety of foods,Keeps Balanced Nutrition . Indeed A great helper for Your healthy life.

Finish with only 60 seconds
Safe: Never worried about cutting your fingers
Clean: Cutting board free,direct making,more clean
No waste: Just one bowl
Nutrition balanced: matches with a variety of foods
FREE!!! 

Strainer Chef Basket
Ultimate kitchen buddy indeed which helps you cook and wash!
Strainer Chef Basket is a clever kitchen gadget that makes boiling, steaming, deep fat frying, blanching and draining so much easier.
This flexible reversible basket starts off flat, but opens out into a hanging-style basket that fits perfectly into your sauce pans. You can boil pasta or deep fry chips in the Strainer Chef Basket, and then just lift it up to drain.
The handles never get hot, so cooking is safer, as well as easier. You can invert the basket to use as a steamer. You can even flip down the handles and use it as a free standing colander. The handles make it easy to move your food from the sink to the pan, and from the pan to your plate. And when you're done, it folds down flat for easy cleaning and storage.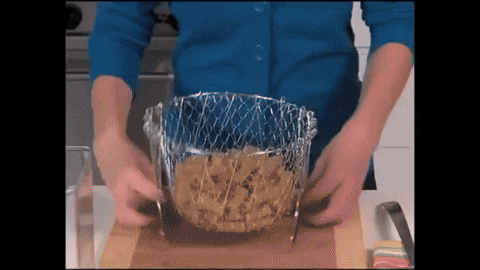 The chef basket is a must for any kitchen. It start of flat and instantly expands to a flexible basket that lets you cook, boil, or deep fry foods with ease. Invert the chef basket and it turns into the ultimate steamer. Even when to water or oil is rapidly boiling in the pot, the specially designed handles stay cool to the touch, when cooking is done, simply lift out the chef basket and go right from the pot to the plate.
A multi-functional kitchen cooking tool. 
Just place the chicken meat on the basket and place it on top of the pot filled with hot oil. After several minutes, you can easily remove the basket as the handles stay cool to touch. It also drains the excess oil since it can be used as a colander. 
Safe to use and easy to clean 
Adopted to micro-point welding and seamless welding technology, no welding injury, no edges, no shedding, avoid hurting your hands. Just use water and detergent to clean, and then dry it with towels.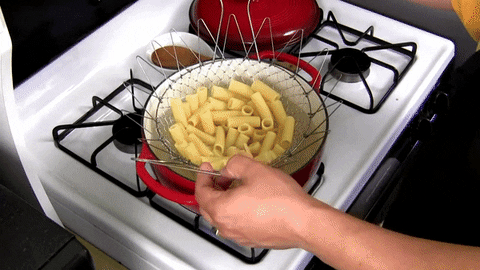 ✅ Specially designed handles stay cool.
✅ When you're done cooking, just lift the cooking basket and go directly from the pot to the plate.
✅ You can place your food in the cooking basket, lift the handles, and go straight from the sink to the pot with a simple movement.
✅  It can be folded up for easy storage.

SPECIFICATION

 •Material: Stainless steel
 •Weight: 220g
 •Color: silver
PACKAGE INCLUDES :
1x Salad Cutter Bowl


1x Salad Cutting Board

FREE!!! Strainer Chef Basket
Important Notes:

We don't want you to miss out our Sale!!
Get Yours Now Thru Cash on Delivery! 
Take Advantage of this Special Offer Now Before the Price Increases!