Buy1 Take1 - Rechargeable Fruit Blender
SALE & FREE Shipping Promo Ends in:
Enjoy delicious smoothies and juices on the Go!
Imagine the freedom of being able to go anywhere and blend your favorite smoothies, shakes, margaritas, or baby food without the limitations of a regular blender.
FEATURES:

 •Miniature blender
 •Portable design for on-the-go
 •Drinkable straight from the blender
 •Includes a strainer for juicing
 •Simple one-touch push button
 •Rechargeable with a USB power source
Now, you'll experience the freshest, most amazing flavors everywhere you go, because you're living in the future with a Rechargeable Fruit Blender portable and USB rechargeable blender. After blending 8-12 beverages on a single charge, simply plug into any USB port or charger to recharge in no time.
Portable Electric Single-Serve Blender-Enjoy Vitamin and Freshly Nutrition whenever and wherever. Simply mix up a delicious or veggie smoothie or protein drink at driving, office, gym, shopping, working out. Great for college kids, single serving, baby food, people on the go.
Powerfull moto- 12oz./350mL total. Stainless steel blade with the motor speed at 25000rpm/min , which mix more thoroughly. Uniform mixing fine grinding. Automatically complete the juice in 40 seconds.
2000mAh Battery USB Rechargeable-Once full charge with USB powered port support 14 times use. Small and light weight, a LED light at the bottom of the base, good for outdoor, sports and traveling.
Convenient for Anywhere: Small and light weight, charge with USB powered port, good for outdoor, sports and traveling.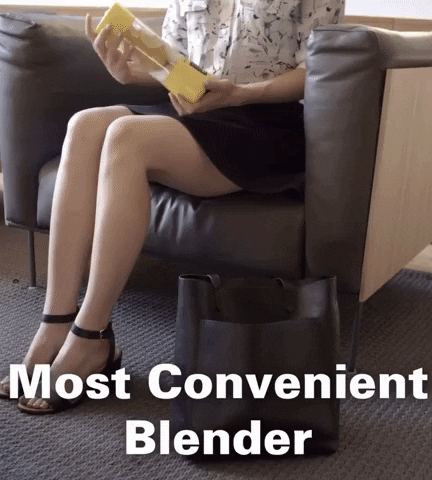 FDA-Approved: Healthy and Safe Material- The body of personal blender -350ml, made of eco-friendly, non-toxic and food-grade high borosilicate glass and 304 stainless steel.The Rechargeable Fruit Blender is one of the World's Most Powerful Portable Blender. The Rechargeable Fruit Blender is so powerful it can even crush ice. All without a kitchen or power outlet. 
Plus, your Rechargeable Fruit Blender will practically clean itself. Imagine never having to clean your blender again. Just add water and an optional drop of soap, and run your Rechargeable Fruit Blender until, "Presto," it's clean!
The Rechargeable Fruit Blender also features a built-in strainer to help keep your beverages chunk free.
Specs:
 •Power: ≤200W 
 •Motor Speed: 15000-22000rpm 
 •Capacity:

 
380mL
 •Package Size:

 
26 x 10 x 10cm
 •Weight:

 
0.4kg
 •Dimensions:

 
82.cm x 8cm x 23.5cm
 •Charging by USB cable 
Product Includes:
 •2x Rechargeable Fruit Blender
 •2x Charging Cable
Important Notes:

We don't want you to miss out our Sale!!
Get Yours Now Thru Cash on Delivery! 
Take Advantage of this Special Offer Now Before the Price Increases!