Buy1 Get1 Promo - Phone Crossbody Bag + Protector Spray
SALE & FREE Shipping Promo Ends in:
Phone Crossbody Bag
Simply were it with Fashion

Trendy Crossbody Bag is not just a place to store your stuff, it is a fashion accessory that speaks for you, we believe that Simple and Portable is a kind of fashion.
This is an ideal way to carry basic essentials while on errands, shopping, sports events, camping, amusement parks, and more.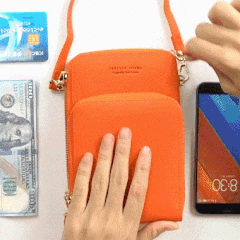 MULTIPOCKETS: It have Multi-pockets inside which can hold money,credit cards. Spacious room with zipper on closure can hold iPhone, keys, money, cards, wallet, headphones, passport, tickets, cash, credit cards and personal small items; Inner Structure:Practical Compact Multiple Pockets to Classify Your Personal Stuff.
PERFECT FIT: For your iPhone X 8/8 plus7/7 plus/6/6s plus/iPhone 6 or 6 Plus (Without case on it); iPhone5/5S/5C, iPhone4/4s; Samsung Galaxy S8/Note8 S7/S6/S5 and almost all other smartphones.
ADJUSTABLE: This Trendy Crossbody Bag have versatile use with adjustable & detachable shoulder strap, can be as a shoulder bag or crossbody purse.
SAFE STUFF: The strap zipper closure makes sure all staff stay inside safely while shopping, exercising, riding, etc. Crossbody design to make your phone stay with you when keep your hands free.


FEATURES :
Carries basic essentials while on the go

Perfect for holding smartphones, keys, cards, lipstick, and other small items

Comfortable to wear

Two straps (Shoulder Strap + Wrist Strap)

Durable and with colors that don't fade easily

Ideal for outdoor and daily use

Designed with 2 main compartments, card slots, and an outer pocket for easy access;

Eliminates the need for bulky bags or putting the cell phone in your jeans' back pocket
Ultra lightweight

Minimal bag that will suit your outfit
SPECIFICATION :

✅ Lining material : Premium Polyester
✅ Main material : Polyurethane
✅ Closure Type : Zipper
✅ Size : 18.5 x 11.5 x 6.5cm
 PRODUCT INCLUDES :
1x Trendy Crossbody Bag


FREE!!! Protector Spray
"When they can't see, they can't hurt you" PROCTECT YOURSELF!
Protector spray is convenient, effective, and easy to keep hidden until you need it. The Home Security Superstore carries protector spray products from well-respected brands like Fox Labs Streetwise and Mace, who make the best protector spray for self-defense, in a variety of colors and sizes. Whether you need a discreet protector spray pen or a larger, more powerful protector spray gun we've go what you need. 
KEEP YOU SAFE FROM:
1. Assault
2. Night Out
3. Solo Travelling
4. Driving Alone
5. Alone at Home
6. Jungle Safari
7. Dog Attack
8. Carrying Cash
Maximum Stopping Power: Maximum strength formula is backed by our in-house high-performance liquid chromatography laboratory, which guarantees maximum stopping power, eliminating the 30% failure rate with other

 

protector

 

spray brands (University of Utah study); UV marking dye helps with suspect identification
Protection at a Safe Distance Against Multiple Threats: Impressive 10-foot (3 m) range; 25 bursts (up to 5x other brands) in a powerful stream delivery to reduce wind blowback
Easily Accessible: Quick Release Key Ring provides access to spray when keys are in ignition or lock while the locking top safety helps prevent accidental discharge; finger grip enhances aim and product retention
Features:
* Used by Police, Law Enforcement, Security, and Military agencies worldwide
* Fires a heavy stream pattern 17' to 20' feet
* Contains 15 half-second bursts
* Spring loaded flip-top unit protects against accidental activation
* Contains marking UV Dye for assailant identification
* Non-flammable - TASER/ECD compatible
* Born-on-date stamped on each container
* 3 year shelf life
Volume: 110 ml
Size: 35*148 mm
Weight: 75 g 
Spray Distance: ≥ 3 Meter
Suitable Temperature: -30ºC-+45ºC

Package Inclucdes:
1 pc Phone Crossbody Bag
FREE!!! 1pc Protector Spray
Important Notes:

We don't want you to miss out our Sale!!
Get Yours Now Thru Cash on Delivery! 
Take Advantage of this Special Offer Now Before the Price Increases!