Buy1 Get1 Promo - Buy Fitness Pull Rope & Get Sit up Bar + FREE Gold Casio Watch (FREE SHIPPING TODAY!)
SALE & FREE Shipping Promo Ends in:
Maintain a healthy lifestyle even at home!
Make body healthy and fit everyday even at home or any comfort place you want to exercise. Get in shape easily with the Fitness Pull Rope. Just 5-10mins a day. Strengthen your arms. legs, thighs and works on the tummy at the same time.

FEATURES:
Workout in the privacy of your

 home

, hotel room, office, or even outdoors.
Workouts for Arms, Legs and Back, and can do seated Exercises. Improves Stretching and Flexibility.
Training with the resistance bands may not only assist with rehabilitative exercises, fat loss, building muscle, but also prevent of getting a cervical spine and lumbar pain, maintaining a healthy body for you.
Ideal for toning & strengthening stomach, waist, and legs, arms, hips, thighs, and works on the tummy at the same time.

High quality, the product is made ofenvironmental foam, and the tube is made of NBR, which is healthy to the body.

Foam wrapped handle, non-toxic no stimulation, safety, and environmental protection, to avoid movement due to climate change or cause excessive heat, moisture, slippage occurs, comfortable..


HOW TO EXERCISE WITH FITNESS PULL ROPE?

1. Waist Exercised: Footing flat on the fixed footrest, holding the handle. With the tube, it is flexible to do a sit-up. It can consume twice calories than usual sit-ups.
2. Leg Exercised: Lying on the yoga mat, holding on the handle and footing on the footrest. Legs bent in 90 angles and force forward. Recommendation 15 times each. 
3. Shoulder Exercised:  Standing still and footing on the footrest, hold on the handle firmly pull up and down. Recommendation 15 times each, repeat 2-3 group. It can prevent scapulohumeral periarthritis, increasing the flexibility of the shoulder.
4. Arm Exercised: Siting on the chair and footing on the footrest, keep in 90 angles, pull around the tube. Palms hold up the pull implement can exercise the arm's inside muscles.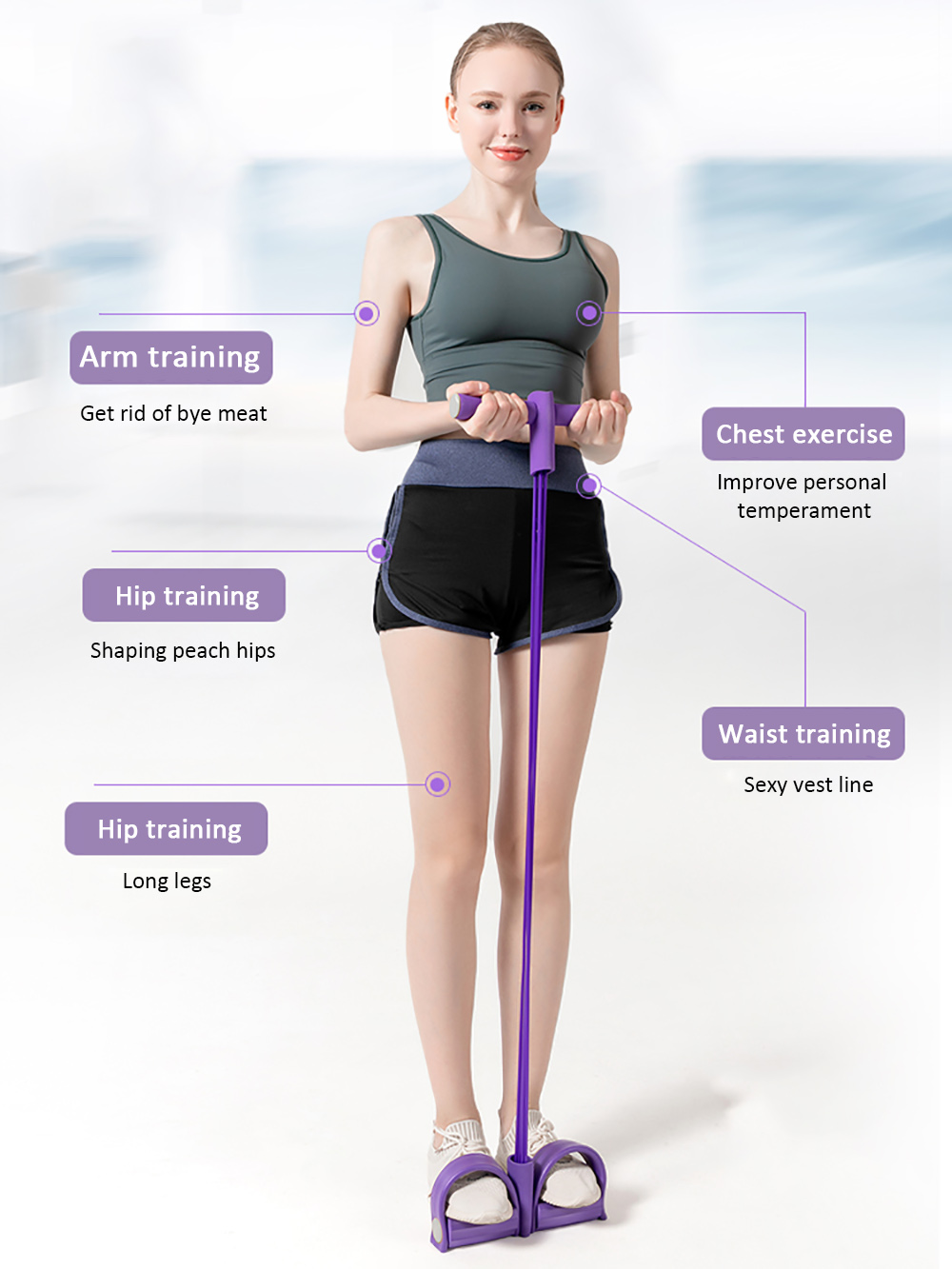 Please Note:
1. Please allow 1-3cm error due to manual measurement.

2. Please understand that colors may exist chromatic aberration.
Get Sit Up Bar

FEATURES: 
SAFE AND STABLE - 12 cm silicone sucker, high and strong suction, more secure and stable. Note: The ground needs to be clean and smooth. There must be no gap on the ground, which will reduce the adsorption force.

MULTIFUNCTION

 

- Break through the single function, helping you roll belly movement, push-ups, side kick, sit-ups and other sports.

EASY TO CARRY- Small occupation, easy to install, convenient to use, let you at any time slimming shape. Suitable for homes and offices.

ADJUSTABLE HEIGHT - Three heights can be easily adjusted. The operation is simple, the suction cup switch is erected to be in a relaxed state, and the flattening is in an adsorbed state.

SOFT AND COMFORTABLE - The suction cup is made of natural rubber and has a comfortable foam at the top to reduce the friction and care for your feet.
Order Now & Get a FREE Gold Casio Watch !!!
Package Includes:
 •1x Fitness Pull Rope
 •1x Sit up Bar
 •1x Free Gold Casio Watch
FREE SHIPPING TODAY!!!
Important Notes:
We don't want you to miss out our Sale!!
Get Yours Now Thru Cash on Delivery! 
Take Advantage of this Special Offer Now Before the Price Increases!