Buy1 Take1 Promo - Foot File Vacuum
SALE & FREE Shipping Promo Ends in:
GET SMOOTH, SALON-WORTHY FEET ANYWHERE, ANYTIME!
Foot File Vacuum is an electronic personal pedicure kit that gently removes calloused and dry skin, makes your feet beautiful and softer. It is also a non-abrasive stainless steel blade.
Enjoy the feel of smooth, silky feet. Instantly remove dry, rough skin and eliminate calluses with the Foot Callus Spin Remover. The gentle abrasion works with dual speeds to cover heels, soles, and toes. Strong enough to affect tough skin but gentle enough for delicate areas. Use detachable collector to quickly and cleanly dispose of removed skin.
Why risk hurting yourself with that old heel scraper for feet or callus remover chemicals when you can easily get professional results in your home with our electric foot callus remover.
BEAUTIFUL SKIN WITHOUT THE DAMAGE: A regular foot file grates and damages skin, causing pain, irritation and discomfort. Foot File Vacuum removes uncomfortable calluses and smoothens cracked heels without damaging your feet.
SALON RESULTS, WITHOUT THE COST: Not much in life is more relaxing than a good pedicure. But those salon visits are expensive to maintain. With Foot File Vacuum, you'll no longer have to suffer dry, cracked heels in between visits. Now you can have pedicure-worthy feet whenever you want.
SOFT, SEXY FEET ANYWHERE: The rechargeable battery lets you use Foot File Vacuum anywhere. Take it in the car for sandal-ready feet at the beach or touch up cracked heels at the office in between meetings.
POWERFUL YET GENTLE: The high-powered micro-abrasion head makes Foot File Vacuumthe ultimate foot exfoliator. The head spins at over 2000 rpm to gently remove calluses while buffing and polishing skin.
FORGET THE MESS: Other foot files leave behind huge messes. Foot File Vacuum is the only motorized callus remover with unique derma-vac technology that sucks up those dead skin shavings WHILE you use it. Salon feet without the mess.
INSTANT RESULTS: Watch in amazement as our electric callus remover for feet works through dead skin and hard-to-remove calluses, revealing smooth skin.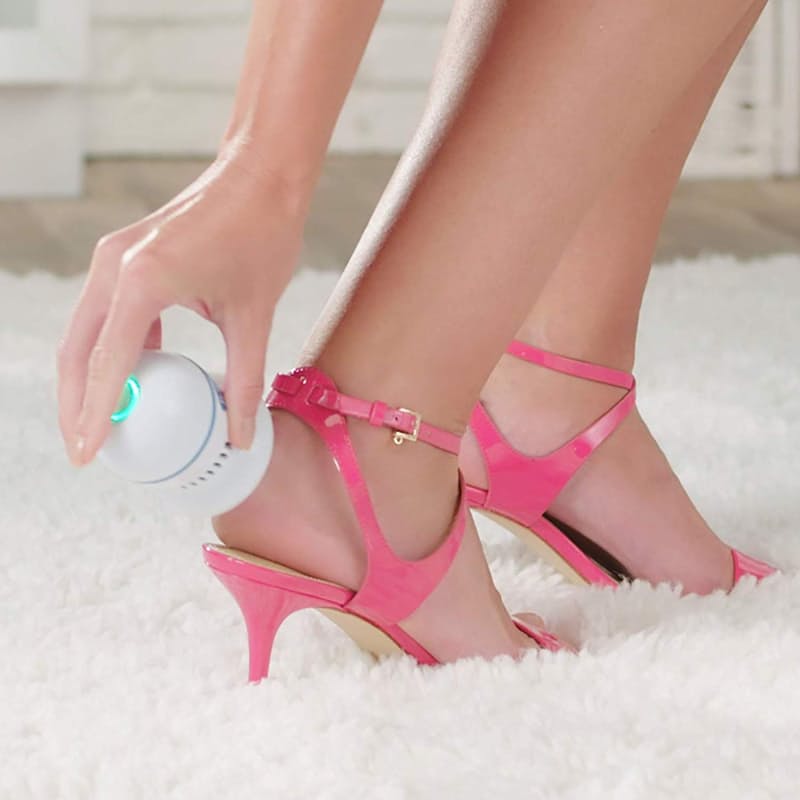 RECHARGEABLE BATTERY: Simply charge Foot File Vacuum, You save money over time because there's no batteries to replace
SPECIFICATIONS
 •Material: abs weight: 250g
 •Size: 6.9 x 6.1inch | 9.5 x 6.5cm
 •Charging mode: USB interface charging (1 hour available for one charge)
 •Charging voltage: 5v 
 •Charging current: 2a
 •During work: the green light shows a low-speed turn and the red light shows a high-speed turn.
 •When charging: the green light indicates your Foot File Vacuum is fully charged. The red light indicates it is charging.
Package Includes:
 •1x Set of Foot File Vacuum
Important Notes:

We don't want you to miss out our Sale!!
Get Yours Now Thru Cash on Delivery! 
Take Advantage of this Special Offer Now Before the Price Increases!