Buy1 Take5 Promo - Hardboiled Egg Molder
SALE & FREE Shipping Promo Ends in:
Make hardboiled eggs without the shell!
The hard boiled egg maker is hard to fall off,resistant to high temperature, so that you don't waste eggs any more.Dishwasher Safe.Fast and Effective for cooking delicious egg.
Food Safety - Non-Stick silicone egg boiler Easy to clean. Easy to make soft or hard boiled eggs, scrambled eggs, mini omelettes,egg benedict's and more.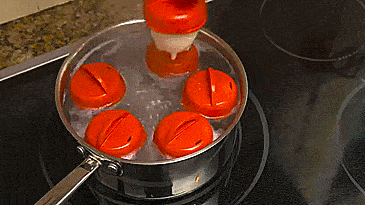 Time Saver - Boiled Eggs Without the Egg Shells AS SEEN ON TV.Spray the silicone egg boiler with oil at first,crack the eggs,boiling for 15-20min.Non-stick.NOTE:You need to add Cooking Spray/Oil/Butter into egg cooker before use to prevent eggs from sticking.

 •Easy to make soft or hard boiled eggs, scrambled eggs, mini omelettes, egg benedict's and more. Just crack open the eggs, pour into an Hardboiled Egg Molder cooking cup, boil and serve
 •Egg cup with lid, flexible egg cooking tool can make perfect steamed egg without eggshell, keep egg fresh, delicate and convenient to eat
 •Dishwasher Safe and easy to clean, after cooking eggs, dip egg cookers in cold water for a while, when egg gets cold to a good temperature just pop it out and enjoy your meal
 •These egg cups are NOT INTENDED FOR USE IN THE MICROWAVE: Please use caution when handling as contents will be very hot, please stay away from kids before cooling down.It is better to add a little oil to the egg makers before cracking egg. Recommend that put the Hardboiled Egg Molder cooking cups into boiled water for 5 minutes before the first time using
PRODUCT FEATURES
 • Saving time: cracking the eggshell is much easier than peeling eggshell off. Easy to use: no more complex step,just add a little oil, crack egg and pouring into egg cookers, dip into cold water and boiled it, pop out and enjoy
 • Multi-functions: you can use those egg makers to cook soft or hard eggs as you like, or to cook eggs bites, egg white, fruit, cupcakes, frozen treats, candy etc
 • Delicious: tired of just boiled eggs? Let's add some interesting things, just like vegetable, flavoring and what ever to make eggs more healthy and delicious.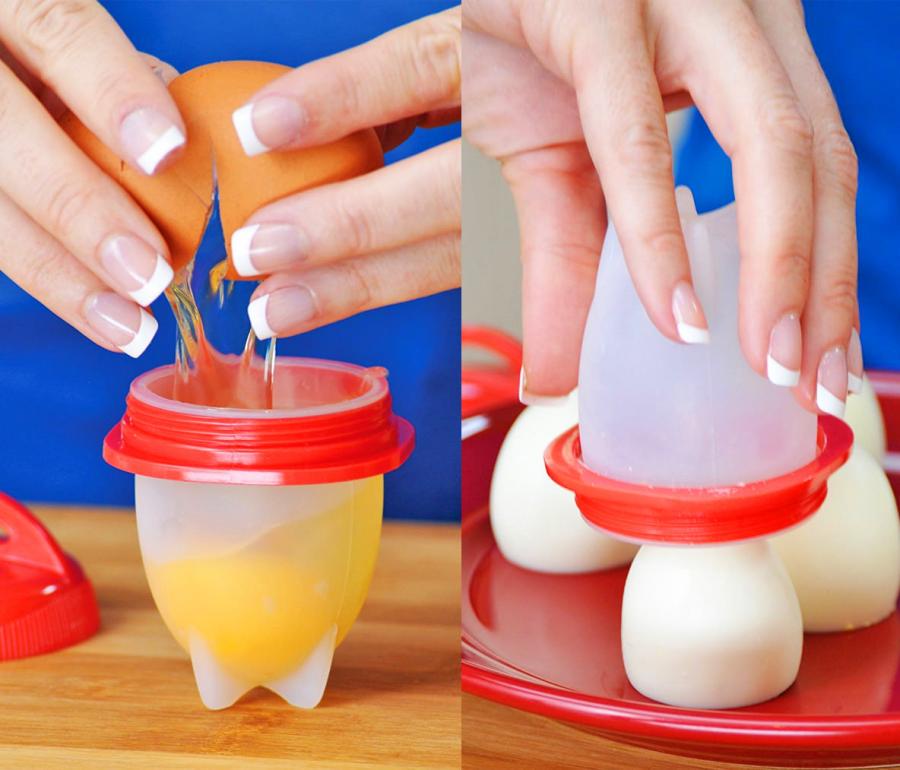 HEALTHY & SAFE&DURABLE

Fully made of high quality PP which is odor and stain resistant
Both are durable and covered by our lifetime guarantee
FDA approved and free of BPA, PVC, lead, phthalate, and other toxins
EASY TO USE

The set has 6 individual egg boiler with lid making you prepare 6 eggs at once
Hard lid with screw and allows for convenient adding flavor etc
Dishwasher safe without harsh detergents, hand wash recommended
ALL-APPLICABLE

A great accessory for your cooker. It fits perfectly in any pot
Can be used in the freezer and are top rack dishwasher-safe
Fits for medium, large, extra large egg size
Makes a spectacular kitchen gift, family gift, or moms gift
MULTI-FUNCTION

Easy and convenient to cook soft, medium or hard-boiled eggs
Great for cooking eggs bites, egg white, fruit, cupcakes, frozen treats, candy
Can be used for cooking, food storage or serving dips and sauces, or as a mold
Use to prepare recipes for breakfast, lunch, dinner, snack or mealtime spread
Specs:
 •Silicone
 •Size: 7 x 7 x 9cm
Product Includes:
 • 1x Hardboiled Egg Molder (6 pcs)
Important Notes:

We don't want you to miss out our Sale!!
Get Yours Now Thru Cash on Delivery! 
Take Advantage of this Special Offer Now Before the Price Increases!