Buy1 Get1 Promo - Kitchen Dish Rack + Kitchen Hanger
SALE & FREE Shipping Promo Ends in:
Increase the kitchen storage space at home!
If you've ever felt like you're lacking kitchen space or you'd like your dishes to dry a little faster without actually using a towel on them, our drain rack is just for you! It's designed to be a literal workbench/drying rack for your dishes! 
The Kitchen Dish Rack means that water won't harm it as it is 100% rustproof. This amazingly durable system looks attractive and neat in your kitchen. It is designed to fit right over the top of your sink. It's the perfect place for drying dishes.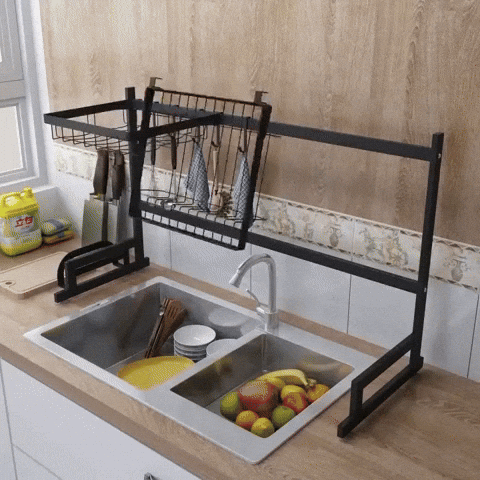 FEATURES AND BENEFITS:
 •Very easy to assemble, disassemble, and clean
 •Frees up space around your sink
 •The bottom is reinforced and stable
 •Able to bear a heavy load (up to 80k) and does not shake or slide
 •Resistant to hot and cold temps
 •Resistant to corrosion
Effective use of kitchen sink space
High-end Stainless Steel Baking Paint + German Technology
- Multifunctional integration
- strong bearing gravity
- Stainless steel material
Is it easy to wash a dish without a drainage rack?
Increase 50% finishing efficiency
After finishing 
The kitchen is as clean as new, and I love cooking and washing dishes ever since. 
U-shaped structure, stable and unshakable, more comfortable and comfortable to use. Bearing more than 80 kg German Designer, Designing Scientific Mechanics StructuresSteady and not forward 
It's safer not to touch people or taps.
Reasonable spacing design, no contact and no obstruction of sight 
Fastener design, simple cleaning
Suction cup footpad, in wet and slippery also can HOLD! 
Environmentally Friendly and Healthy Baking Paint
Focus on every detail of the product 
 Five-Layer Design
 •Chemical Polishing Scratch Elimination Layer
 •High-Temperature Oil Discharge Decontamination Layer
 •Acid-base neutralization and rust-proof coating
 •Four Paint-free Spraying Coatings
 •Anti-scratch and skid coating 
Make the kitchen bigger
Save kitchen space, drainage is easier 
Product Includes & Specs:



360 Kitchen Hanger
Our 360 Kitchen Hanger are made of durable high-quality PP material with 360-degree rotation design, full use of space, and free rotation storage that can be adjusted back and forth for your convenience!




 • ADJUSTABLE AND CONVENIENT -  With its 360-degree rotation design, full use of space, free rotation storage. It can be adjusted back and forth and the head can be retracted when there are large objects.
 • WIDE APPLICATION - can be used in the kitchen, bathroom, balcony, and anywhere it is needed. Works on all smooth surfaces such as glass, windows, walls, and more.
 • HIGH-QUALITY PP MATERIAL - sturdy and stable, light and durable, no rust and corrosion, can hold more than 4-6 kinds of items
 • SIMPLE INSTALLATION -  Install it in seconds! No nails and no drills needed. It won't damage your walls. 



Product Includes:

 •1x Kitchen Dish Rack + 1 Kitchen Hanger 
Important Notes:

We don't want you to miss out our Sale!!
Get Yours Now Thru Cash on Delivery! 
Take Advantage of this Special Offer Now Before the Price Increases!