Buy 1 Take1 Promo - LED Fan Blade
SALE & FREE Shipping Promo Ends in:
No need to pay high bills for best light!
This LED Fan Blade can save more than 80% energy compared to traditional lights. Its foldable design makes it perfect to adjust the lighting direction and coverage.
LED Fan Blade Adjustable design with 6500k lumens, Brightness is equivalent to 8x than the regular bulb. you can adjust the brightness of a folding lamp by folding or unfolding the fan blades.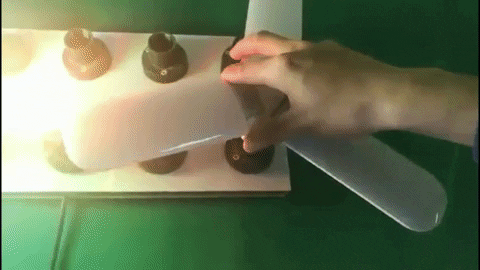 •Easy to Install - Fits standard E27 socket; no special lamp-base necessary.
 •Unique Design - Foldable three-leaf fan blade design. The LED pendant light can be folded flexibly, which takes less space in the house; When it is open, the lighting area is wide and super bright.
 •Eye Protection - The lamp shade with high light transmittance, uniform illumination, anti-dazzle and no flicker, create a comfortable environment for your eye.
 •Energy Saving - It can save more than 80% energy which compared with traditional incandescent lights.The light life time will be last more than 30,000 hours, so you won't worry will replace the light frequently.
 •Widely application - Can replace traditional lamps and lanterns, widely used for home lighting. Especially working as a night light for closet, cabinet, corridor,bathroom, workshop, basement, garage, stairs, roof, door, garage entrances and other storage areas.
 •Fold the fan blades, decrease brightness
 •Unfolded the fan blades, increase brightness
 •Good Color Rendering Index
 •High Lumen
 •Anti-Static Ability
 •Long Lifetime
 •Stable Quality
LED Fan Blade Angle Adjustable Ceiling
Specification:
 •Type: LED Bulbs
 •Material: PC
 •Shape: Fan
 •Colour: Warm White,Cold White
 •Color Temperature: Cold White 6500K
 •Size: 240X170X88mm
 •Voltage: 95-265V
 •Power: 45W 
Product Includes:
 •1x LED Fan Blade
Important Notes:

We don't want you to miss out our Sale!!
Get Yours Now Thru Cash on Delivery! 
Take Advantage of this Special Offer Now Before the Price Increases!