Glass Repair Fluid
SALE & FREE Shipping Promo Ends in:
Repair Glass Damages In Minutes😱😍
It removes air from the break, fills it with durable resin and makes it even stronger than before 💪. 
This Nano Glass Repair Fluid allows anyone to fix cracks or chips in windshields - safely, easily and inexpensively - before those imperfections enlarge.
It works on most types of damaged outer glass. The Nano Repair Fluid is designed to work best on small chips, bulls-eye, spider web, star-shaped, half-moon crescents, and every kind of cracks that are not bigger than 30 cm/12 inches and 2.54 cm/1 inch in diameter.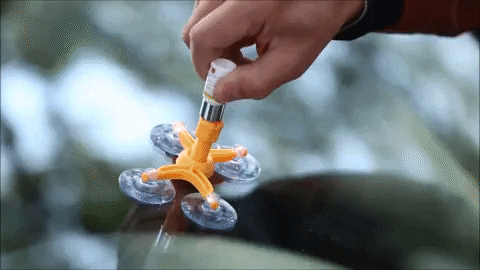 Single-ingredient filler simplifies the application process by eliminating the need to mix or heat materials. Because the ingredients match the optical qualities of glass, they create a clear, blue-free repair. 
Main Features:
Allows anyone to fix a damaged windshield or window.
With the vacuum function we can quickly remove cracks in the glass.
Reinforced injection sealant dispensing head.
Single ingredient - eliminates mixing.
No heating is required.
Creates an invisible, undetectable repair in damaged automobile windshields or other laminated glass windows.
Repairs completed in 20 minutes.
Produce a strong pressure will repair fluid forced into the cracks.
Import repair solution for maximum strength and skill to reach the surface before 25 PA.
Specifications:
•Liquid Material: Amino-Acrylate
•Bracket Material: ABS
•Weight: 0.065kg
•Size: 22*11*2.5cm
Package Inclusions:
•2 x Nano Glass Repair Fluid
Important Notes:

We don't want you to miss out our Sale!!
Get Yours Now Thru Cash on Delivery! 
Take Advantage of this Special Offer Now Before the Price Increases!