Buy1 Take1 Promo - Pump Soap Dispenser
SALE & FREE Shipping Promo Ends in:
DISHWASHING HAS NEVER BEEN THIS EASY!
Introducing our Pump Soap Dispenser your cleaning dishes are about to get a whole lot faster. No more stopping to grab the soap bottle. Any other sponge or scrubber will work on this tool.
Sink dispenser with attached caddy holds sponges, scrubbers, rags, scouring pads in one convenient place while keeping water off of kitchen counters. No more stopping to grab the soap bottle. Any other sponge or scrubber will work with it too!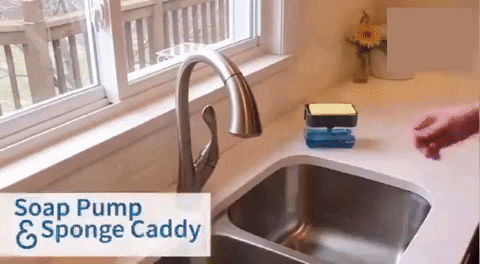 The container has a large capacity of 13 ounces so that you don't need to refill it frequently. Works with all kinds of liquid soaps. Fill it up with your favorite dish soap, then use the included sponge to press down on the pump, which dispenses the perfect amount of dish soap up onto the sponge.
This soap dispenser will help simplify your counter space and it holds the perfect amount of soap for your kitchen sink and eliminate the need for frequent refills.
Keep your soap and sponge conveniently accessible with this stylish soap dispenser with a sponge holder. it provides just the right amount of dish soap to clean up a hefty load of dishes.
It features an affixed sponge holder that helps you dispense dish soap onto a sponge or cloth. And allows water and soap suds to freely and quickly flow. It keeps all dishwashing essentials clean and tidy!
REVOLUTIONARY DESIGN: The dispenser allows us to extract the soap with one hand. Shoots out the perfect amount of dish soap every time.
SPACE SAVING & TIME: The sponge holder will totally transform your kitchen, designed to wash dishes faster, and keep your sponge handy.
EASY TO USE & CLEAN: The push pump design dispenses soap effortlessly. Ir allows to fill the dispenser comfortably, convenience and mess-free structure are what makes it impeccable.
VERSATILE USE: Suitable for home, school, office, hospital, hotel, restaurant, factories, and so on. A non-slip silicone base to save your kitchen space, make washing efficiently.
Specifications:
 •Material: ABS
 •Packing size: approx 16 x 12 x 11cm
 •Weight: about 230g
Package Includes:
 •1x Pump Soap Dispenser
Important Notes:

We don't want you to miss out our Sale!!
Get Yours Now Thru Cash on Delivery! 
Take Advantage of this Special Offer Now Before the Price Increases!