Rotating Storage Tray
SALE & FREE Shipping Promo Ends in:
Keep the kitchen space maximized and organized!
Maximize cabinet, countertop or pantry and keep space organized. Perfect for spices in the pantry, jars in the refrigerator, craft or hobby room, bathroom cabinets, or even cosmetics on the vanity.
Rotating Storage Tray rotates 360º featuring easy-glide ball bearings, the rubber feet base protects it from moving and protecting surfaces.Open design keeps items visible and easily accessible, Rotating Storage Tray is designed with style and function in mind. Keep your cupboards mess-free without compromising the ability to reach items effortlessly!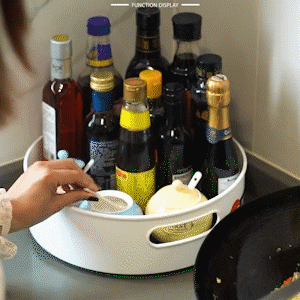 Features:
✔︎360 degree storage
✔︎ Size two specifications to meet different storage needs
✔︎ Scope of application: cosmetics, seasoning bottles, fruits and vegetables
✔︎Rotate to get things, convenient and fast.
✔︎Two side handle design, convenient to carry.
✔︎Innovative design, convenient and safe to take seasoning. 
✔︎Large capacity of 30CM in diameter, which can be used to store various types of items. 
•Smart Storage: This lazy Rotating Storage Tray makes items easy to reach, even when stored in corner cabinets and deep base cabinets. It can help you save a lot of countertop space, keep neat and orderly.
 •360°Rotating: Rotate 360 degrees, the Rotating Storage Tray operates smoothly, stainless steel ball bearings, easy to rotate each time.You can rotate it to get things, convenient and fast, bring you a good mood.
•Anti-slip Design: The inside of the storage tray is TPR rubberized design, and the stored items will not slip during the rotation. The bottom adopted a non-slip silicone design. You don't need to worry!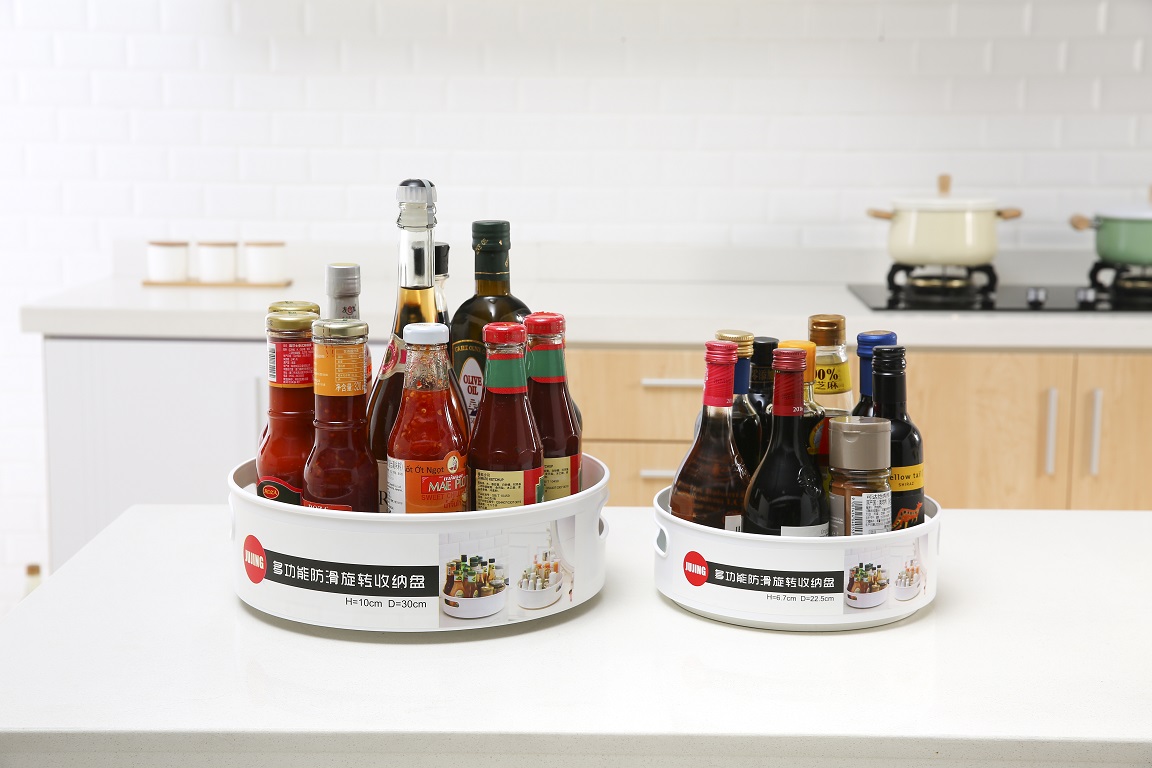 •Premium Material: Made of superior ABS plastic and TPR material which is environmentally friendly material. The ball bearings on the base are made of stainless steel, so it can prevent rust.
•Wide Application: Rotating Storage Tray has 2 sizes that can meet your different storage needs. Perfect rotating storage tray for cabinet, fridge, kitchen, bathroom, cosmetic countertop, etc.
•The anti-slip performance is excellent,when you rotate it, you don't have to worry   whether the items in the storage box will slip out.
•360 Degree Rotating Design: This organizer operates on smooth-gliding, ball bearings for an easy spin every time.
•It makes every item easy to be reached, even when it stored on upper shelves.
•Help you save a lot of counter-top space.
•Organizing All The Cosmetics, Seasoning, Detergents.Rotate it to get the thing you want.
Specs:
•Material: High quality ABS TPR
•Package Size: 25 x 25 x 9cm
•Capacity: 10L
•Storage Scene: table, bathroom, living room, kitchen, storage room
Package Includes:
 •1 x Rotating Storage Tray
Important Notes:

We don't want you to miss out our Sale!!
Get Yours Now Thru Cash on Delivery! 

Take Advantage of this Special Offer Now Before the Price Increases!