Buy1 Take5 Promo - Silicone Stretch Lid
SALE & FREE Shipping Promo Ends in:
Use the lids over and over again that won't tear or warp!
The Silicone Stretch is Reusable, Durable and Expandable Fresh Food Cover. Our Silicone Stretch lids fit better than before, it will not be slip easily when the container is wet or high heat.
No slip off and seal well: Airtight seal keeps food fresh longer and prevents spills.
FEATURES :
 •Food will taste as good as fresh: airtight seal keeps food fresh longer and prevents spills.
 •Are you still struggling with compatibility? We found the lid to match! One stretchy silicone lid is compatible with many different container sizes and shapes
 •This product is a money saver and ECO-friendly: forget cling wrap, baggies or lid-hunting; use stretch n'seal lids for containers, cups and even directly over food items
 •Their longevity will amaze: extra thick silicone is durable and will not tear or warp; can be used over and over again and are dishwasher and freezer safe
 •Clear lids! A window to the fresh food in your fridge: why hide fresh with a colored lid? Exclusive: you will love the large bonus party bowl lid!
Silicone Stretch :- No the container we own don't come with a Silicone Stretch lid. The Silicone Strech lids not only acts as a lid but also creates an airtight lids.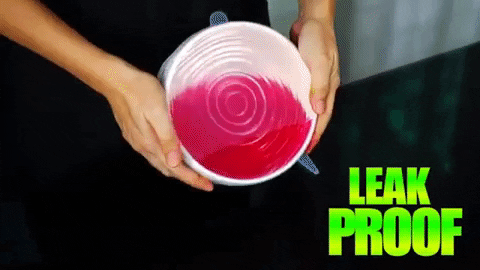 Fits any shape bowls:- It is common to lose the lids to our container, or in some cases not having lids at all for them in the first place like cups, bowls, glasses etc. Do not worry Silicone Stretch to the rescue. No matter what shaped container is it that you are trying to cover Silicone Stretch has your back (square, oval, rectangular, round even a hexagonal bowl).
Spill-proof seal:- Your Silicone Stretch are spill and leak proof. Works perfectly to cover one freshly squeezed juice and prevent from going bitter to cover a can of cola to prevent it from refreshing fizz. Once sealed the lids ensure that accidental tumble of the glass doesn't spill the liquid over.
Keeps food fresher for longer:- Fresh food oxidizes very quickly, take a bite of an apple and keep it out for 5 min and you will see the proof. Your Silicone Stretch can keep your food fresh 10 times longer with its patented lid.
Microwave friendly:- Trying to heat a bowl with microwave? No problem now take your food directly from the fridge to the microwave without even removing the Silicone Stretch. Your Silicone Stretch are microwave friendly and will not get damaged in the microwave.
Food grade silicone:- All Silicone Stretch are made with food grade silicone. You and your families health and safety are our top priority.
Quick use and easy to store:- Using Silicone Stretch is quick and easy. Just in a sec pull it out any container press in the middle to create and vacuum suction and you are done. Needs less space for storage.
Reusable:- A Silicon Stretch Lid would last you about 2 to 3 year. You can use it daily to cover different shaped containers.
Faster Marinating:- Cover your marinated meats and veggies with Silicon Stretch lids for faster marinating. The vacuum created fastest the Marinating process upto 4 times faster. 
Freezer Friendly:- You now even use the Silicon Stretch Lids to even cover items in the freezer. 
SPECIFICATIONS :
✅ Material : Silica gel
✅ Characteristic : Eco-friendly
✅ Type : Kitchen Utensil Parts
✅ The Cookware part type : Lids
✅ Color : As shown on picture
PACKAGE INCLUDES :
 •6pcs of  Silicone Stretch - Size Varies
Important Notes:

We don't want you to miss out our Sale!!
Get Yours Now Thru Cash on Delivery! 
Take Advantage of this Special Offer Now Before the Price Increases!