Springback Abs Wheel
SALE & FREE Shipping Promo Ends in:
Get an Effective Rock Hard Abs even at home!
Stuck at home while your gym is closed? No need to worry! Stay healthy while social distancing and get a complete six-pack abs workout without going anywhere.
The Springback Abs Wheel acts as your personal fitness trainer to help you build muscle, strengthen and shape your abs, burn calories, and improve your overall endurance. Whether you are a beginner or an expert, the Fitness Ab Roller Wheel is sure to help you achieve the six-pack abs you dream of, from the comfort of your own home!
✅ -  Get stronger abs than traditional bodyweight exercises
- You can use the ab wheel to complete a variety of different exercises, ranging in difficulty from intermediate to advanced, it's a no-brainer why ab wheel workouts create more defined & stronger abs than traditional flexion exercises.
✅ - Strong and durable

- Our ab wheel is beyond durable with its built-in thickened steel tube to ensure you remain stable whilst performing exercises.
✅ - Safe to use 
- We've built in a range of safety measures into our ab roller wheel which makes it simpler for you to ease yourself into using it, safety features include the automatic spring back or roll back function which protects you from pulling muscles.
✅ - Workout anywhere
- Thanks to its small and compact design, our ab wheel is ideal for working out anywhere; at home, at the gym or whilst you're on the move.
✅ - Suitable for all types of floors
 - Our ab roller wheel works perfectly on any floor, including; wood, carpets, lino & many more. It also doesn't leave marks on any type of floor.
Features:
Specialize Core Training: With each repetition of the rollout exercise, the Fitness Ab Roller Wheel works various muscles to target your abs, hip flexors, shoulders, and back. It will help improve your lower back strength and decrease your risk of muscle injury.

Superior Design: Covered with thick TPE (thermoplastic and rubber), the slip-resistant wheel is quiet, and it protects your floor. A wide wheel (7 inches) offers balance and stability while the built-in, thick steel provides excellent weight capacity of approximately 440 lbs. Strong and durable materials, along with a comfortable foam grip, ensure the Fitness Ab Roller Wheel withstands even the most intense workout sessions.

Automatic Spring Function: The Fitness Ab Roller Wheel is designed with an automatic spring-back/roll-back function. This protects against pulling muscles or tearing ligaments, making it suitable for beginners and professionals alike. Easy to assemble and carry around, this non-slip fitness ab roller wheel is the perfect home fitness device.
Benefits of The Fitness Ab Roller Wheel
Build Muscles
Grow and Shape Abs
Maintain Health
Core Training
Burn Calories and Fat
Improve Endurance
Improve Posture and Stability
Reduce Lower Back Pain
Achieve A Firmer Waistline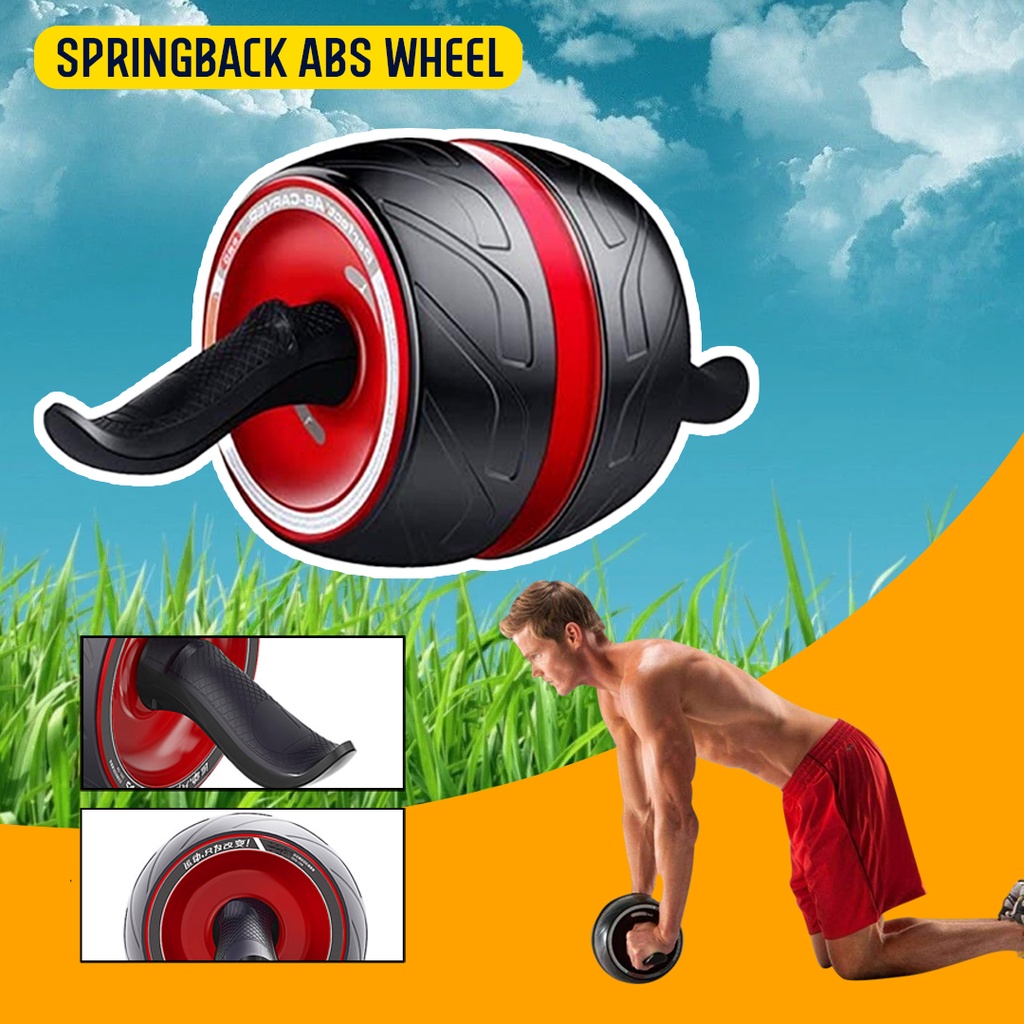 Specifications:
Material: ABS + Steel
Product size: 30 * 16CM/11.81*6.30in
Product weight: 560g
Application: Fat-Burning and Muscle-Building
Product Includes: 
Important Notes:
We don't want you to miss out our Sale!!
Get Yours Now Thru Cash on Delivery! 
Take Advantage of this Special Offer Now Before the Price Increases!