Square Pan Pro
SALE & FREE Shipping Promo Ends in:
No more messy cleanup! Get the amazing pan that does it all and doesn't stick!
The only piece of cookware you'll ever need! Flambé, Cook, boil, fry, steam, bake, roast & more with this all- inclusive set. Made of super durable Titanium Ceramic, it's guaranteed to last a lifetime. No oil & no butter needed means healthier meals, non-stick surface makes sure food slides right out when ready to serve. Cleaning is a breeze too- the Square Pan Pro Set is completely dishwasher safe!
A practical and complete non-stick ceramic pan of ideal quality to prepare a multitude of foods with comfort and speed.

Square Pan Pro with non-stick Cerami-Tech Ceramic coating that does not require the use of oil, butter, or grease. Cook all your favorite foods, healthily and easily on any surface: gas, electric, glass, ceramics, or induction cooktops.
Product Features:
 •Multipurpose (6 functions): roasting, cooking, frying, steaming, broiling & baking.
 •Double polished ceramic coating
 •Aluminum core for optimal thermal conductivity and uniform heat distribution
 •Stainless steel induction base with faster heating and insulation. 
 •Ceramic non-stick coating Oven and dishwasher safe
 •Compatible with gas, electric, glass-ceramic and induction cookers
 •This non-stick and smoke-free pan prevents the bread crumbs from overflow and keeps the oven clean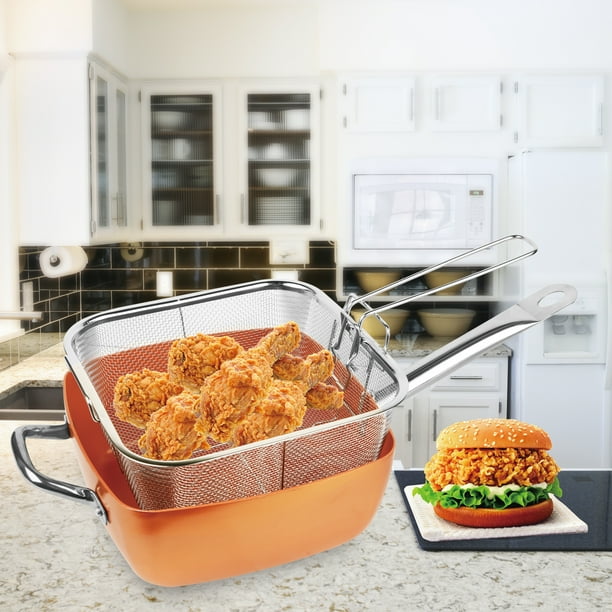 The Best Find for All Kitchens :  It may also be placed into the oven, as it is heat resistant up to 850° F. The latest Cerami-Tech coating technology and a stainless steel induction plate in the bottom of skillets allows heat distribute more evenly and effectively which provides faster cooking.
Endless Cooking Possibilities : Square Pan Pro is scratch resistant cookware provides reliable assistance in preparing a full menu for any special occasion; it's good for everything from soups to stews to main dishes and desserts. Use it for everyday cooking, make the recipes you love the most for breakfast, lunch, and dinner. Cook eggs, omelette, pasta, french fries, chicken nuggets & wings, pizza, French toast, doughnuts, pancakes, cake, pie and many more delicious foods. Fry, boil, steamed and bake fish, meat or vegetables.
Safe and Easy to Clean : Square Pan Pro is nontoxic, making them completely safe for kids and adults alike.
Specification:
✅
Characteristics :
Eco-Friendly
✅ Color : As shown on picture
✅ Material : Aluminum Alloy
✅ Type : Kitchen Utensil
✅
3  layers marble non-stick coating
PACKAGE INCLUDES : 
 •1x set of  Square Pan Pro
Important Notes:

We don't want you to miss out our Sale!!
Get Yours Now Thru Cash on Delivery! 
Take Advantage of this Special Offer Now Before the Price Increases!