Steam Cooking Pot
SALE & FREE Shipping Promo Ends in:
Easy to carry anywhere, practical and save space!
Made of quality materials so it is not sticky and easy to clean.
✔️Advance Stainless Stell Production
✔️Stable Performance, Safe, Sanitary
✔️No Odor
✔️High Efficiency
✔️Rapid Boiling
✔️High Quality Controller
✔️Accurate and Sensitive
✔️Multiple Protection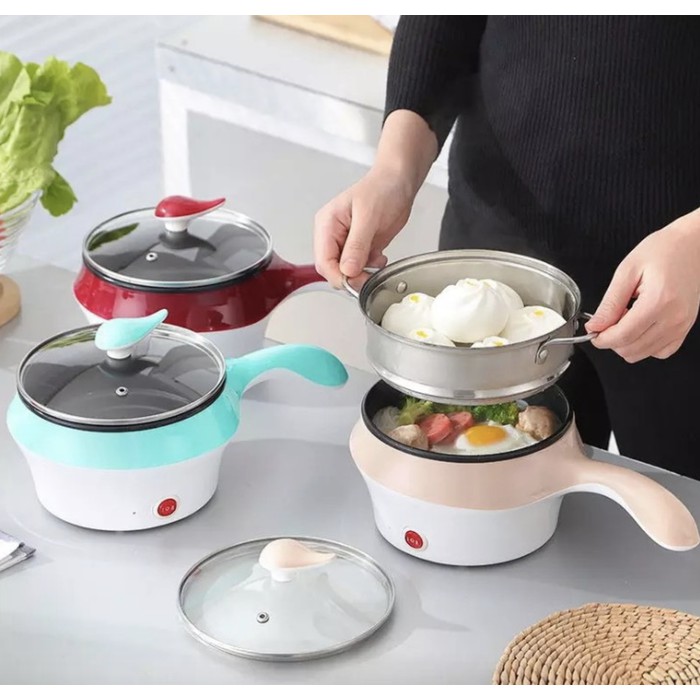 1.Double-layer design The upper layer can be used to steam the steamed bread, the dumplings are heated, and the lower layer can be cooked and cooked.
2.Multi-Function & Practical – 18cm ,customer can be free to adjust. It can be used to steam, boil water, cooking noodles/pasta/dumplings, hot pot, egg, boil soup/porridge/oatmeal and stew. (Please notice it won't auto shut-off)
3.Multi-Occasions & Convenient - The mini electric hot pot is a convenient kitchen appliance in daily life. Suitable for all occasions, good for the dorm room, home, camping, traveling, rented house without kitchen, office or the business trip.

💯One pot multipurpose
💯Electric/hot pot function Stir-fried, teppanyaki, hot pot, stew, stew, steamed, fried, boiled, fried
💯Fast and slow gear adjustment
💯Anti-dry burning automatic power off
💯Energy saving less smoke
💯Non-stick pan
💯Easy to clean
💯Double layer anti-scalding structure
Non-sticky and easy to clean, you can use the Electric Pan using electricity, just plug in the Electric Pot cable and turn it on. Electric Pan can be used for cooking rice, frying, sauteing, making soup, steaming, cooking instant noodles and various other dishes. For those of you who like to travel, this cooking tool can be an alternative to warming food without having to use the stove. Electric pans are easy to carry anywhere, practical and save space.
About Multifunction Steam cooking Pot:
1 Ceramic Coating Electric Pot

1 Steamer / Steamer Stainless

1 Cover Heat Resistant Glass

1 Plug Cable Multifunctional electric pot

Able to cook noodles

Able to cook rice

Can be used to fry anything

Can be steamed

Practical for traveling and saving space

Low wattage
SPECIFICATION:

•Voltage: 220 V / 50 Hz
•Power: 225-450watt
•Capacity: 1.2 liters
•Overall size: 32cmx20.5cm
•Weight: 1,300gram
Product Includes: 
 •1x Multifunctional steam Cooking Pot Set
Important Notes:

We don't want you to miss out our Sale!!
Get Yours Now Thru Cash on Delivery! 
Take Advantage of this Special Offer Now Before the Price Increases!