Super Hand Mixer
SALE & FREE Shipping Promo Ends in:
Convenient Mixer for all your baking and cooking needs!
This powerful little device even adjusts to the resistance of what you're mixing and features a Soft Start Control to prevent ingredients from splattering. Perfect for whipped cream, icings, mousses, cakes, biscuits and cookie dough.
The Pro Whisk attachment is also included and great for whipping egg whites to fluffy peaks or whipping cream to top your favorite dessert. Easily and quickly remove any accessory from the hand mixer with the single-handed press of the beater ejector button. Lock the cord into either the left or right side of the mixer so you can approach ingredients from any angle with the lockable swivel cord.
Product Description
 •7 speed-settings and 180-watt motor: Mix ingredients for a variety of recipes from slowly stirring in chunky ingredients, like nuts or chocolate chips at speed 1, whipping egg whites or heavy cream at speed 7.
 •4 stainless steel accessories: Chrome Beater×2, Dough Hook×2
 •Easy to control: Easily and quickly remove any accessory from the hand mixer with the single-handed press of a button ("OFF").
 •Convenient handheld: The handle allows you to control the hand blender with ease
 •Quick heat dispelling, long life span. You can continuous whip egg white for 3 minutes.
FEATURES :
 •It is Compact, Safe, Convenient and Workable.
 •Perfect to Whisk, Mix and Knead.
 •Easy to operate and clean.
 •Lightweight and easy to carry when you go out.
 •Ideal for home, office, school and traveling.
 •Stylish and Sleek in a white design.
 •Powerful 180W Motor.
 •7 Speed Settings including Turbo Setting
 •Multi-functional with Chrome Accessories: 1 Pair of Beaters and 1 Pair of Dough Hooks.
Using Your Mixer
 •Push the beaters into slots, slightly turning until locking into proper position.
 •Immerse the beaters into products mixture.
 •Plug the mixer into the wall socket.
 •Slide the speed control switch to the desired speed.
 •When the desired consistency is reached, slide the speed control switch to "0" position. Wait until the beaters stops and unplug mixer.
 •Press beaters release button and remove the beaters.
Speed position instruction:
1-2 level: Suitable for mixing dry food powder, eg: wheat powder, beef tallow, potato.
3-4 level: Suitable for liquid material, eg: salad sauce... 
5 level: To mix paste for cookie, cake, etc... 
6 Level: To mix butter, beef tallow, sugar for making candy, desserts, etc... 
7 Level: To mix egg and sugar frost or potato.
Note: Set the speed depending on type of food. Always start to work at low speed, and then gradually increase it. As the mixture during processing becomes thicker, increase power by switching to a higher speed.
Caution : When inserting the dough hooks, remember that the rod with the large washer should be inserted to the right hand slot, and the one with the small washer into the left hand slot. This is to avoid the risk of the ingredients spilling over the rim of the utensils/ receptacle.
To prevent motor overheating do not work continuously longer than 10 minutes and obligatory stop mixer for less than 10 minutes., letting it cool to room temperature.
Clean and Care
 •Always unplug the unit from the power supply before cleaning.
 •Wash beaters with warm soapy water and then dry.
 •Clean the body with a damp cloth and never wash or spill mixer with water.
 •Do not use the abrasive cleaners, metal brushes and sponges, organic solvents or aggressive liquids.
Specification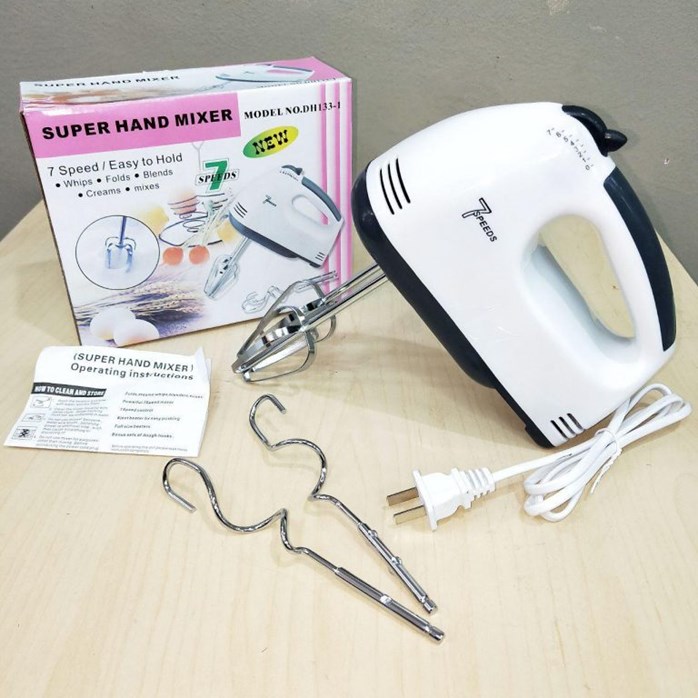 PACKAGE INCLUDES :
 •1 x Portable Super Hand Mixer
 •1 x Pair of Chrome Beaters
 •1 x Pair of Chrome Dough Hooks
Important Notes:

We don't want you to miss out our Sale!!
Get Yours Now Thru Cash on Delivery! 
Take Advantage of this Special Offer Now Before the Price Increases!